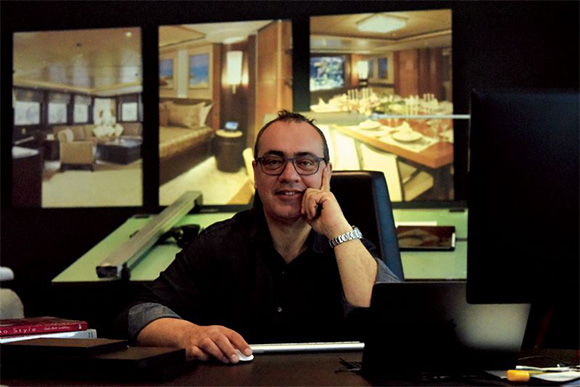 Sam Sorgiovanni travels the world consulting with clients
When Sam Sorgiovanni first received his BA for Design Technology he may never have dreamed that in the years to come he would not only win many prestigious awards for his superyacht designs over more  than a decade, but travel the world consulting with clients for his own business. But that is what his passion for excellence in design has led to.
Spending 12 years with the Australian shipbuilders Oceanfast and being mentored by the legendary Jon Bannenberg gave Sorgiovanni a solid basis for setting up his own design studio in 1997, and he has gone from strength to strength working on the design of many of the famous yachts that are found worldwide.
Sorgiovanni Design Studios in Fremantle WA have been involved in the creation of many beautiful resort and charter yachts and offer –
Sorgiovanni travels the world to consult with his clients and with some of the many well-known shipbuilders of the world. His name is synonymous with creative design and excellence, which is why his services are highly sought after.
Just a few years ago Sorgiovanni was inducted into the Australian Superyacht Industry Hall of Fame, his name being added to the list of other names that are famous in some area of the yachting world. He still represents this industry wherever he goes and does not hesitate to recommend Australian products for the resort yachts he designs when he knows those products are of the same excellent quality that he demands in all his work.  Thus he has helped to make a name for many Australian products used in the shipping industry.
Even though his creative flare has ensured his success, the attention he shows in each and every detail of his designs is another factor that has made an impact on his clients. They know they can trust his designs to be true to their own aspirations and Sorgiovanni himself points to his clients as being the inspiration behind many of his designs. It is also being an Australian that has contributed to his success as Australia is surrounded by the kind of pristine ocean environment that is ideal for all kinds of ships, super yachts included.
Sorgiovanni is wise enough to understand that he must also use the mistakes of others in the past as a learning tool in order to avoid similar errors in his own designs, while looking to the future and embracing all the new materials and technology that it offers. This open-minded approach makes his yacht design both modern and innovative as he presents the beauty of design he is famous for.